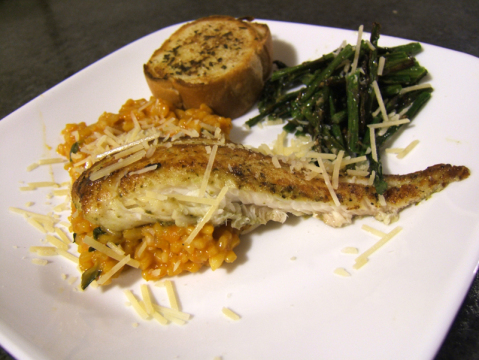 I made enough for 4 this time because I wanted left overs to pack for lunch.
The tilapia was 1/2 pound rubbed with pesto from a squeeze tube, then fried. I didn't love the flavor, and if I were to try fish like this again, I'd pick a different white fish, possibly haddock. Otherwise I might go with pesto chicken.
The risotto was very well like though. The main difference (from last time) was what I used for a liquid. From memory:
1 cup tomato sauce (1 can)
1/2cup wine.
2.5 cups chicken stock.
Also, before I put the rice in butter, I first put 1/2 onion and 2 cloves garlic, both  minced, in the pan and softened them in butter.  This would be a fairly typical thing to do, but when I posted about risotto last time, I had been out of onions and thus didn't include it.
After coating the rice with butter, continue preparing normally.  That means add a little liquid, then stir till it is absorbed, and repeat.  Keep doing this until it has a texture you like, probably about 20 minutes, and you probably won't use all the broth you made.  Near the end add 2 Tbps of tomato paste.  Then add parmesan to taste.